While I'm not super-comfortable with sharing lots of stuff about my boys, I'm more than happy to talk about my dog, Daisy.
We picked her out from a litter of 8 (she was the runt) and as we went to pick her up, she promptly ate a  Daisy. Because she's a purebred, we had to give her the fancy name of "McGovern's Dancing Night". Cheesy isn't it?
Regardless.
She is now eight and a half years old and weighs about 55 pounds.  She's a black lab (of which for some reason, men like to argue she's not a real lab as she is too small etc which takes everything in me to ask them if they would like to see her papers and maybe the reason they can't tell she's real is because their hunting mutts are just that? Mutts?) and she grew a white beard the day I got pregnant. I have absolutely no idea how she figured that out, but she did. And from that day on, miss goofy slobbery turkey head became growling bark at everybody kind of dog.
We used to live in the country and she'd sit at the back patio door, looking for deer. We couldn't afford the decking yet, so it was a good 5′ drop. She'd see one and her whole butt would start vibrating while her tail cleaned the floor and we'd open the door quietly and WHOOSH! off she went. She'd chase them for about a kilometer then come back terribly proud of herself.
She's very good at finding anything dead and rolling in it completely (especially dead snakes). She can find any puddle with 5 kilometers and lie down in it (same for rivers).  She can catch a ball, food (any size) and she can lick peanut butter off your toes or anything else that falls on the floor.
She hates thunderstorms.  She will come up in the middle of the night, slam into our room (smashing the doors open) and stare at me until I wake up. Do you know what it's like waking up to two black eyes looking at you?
If you are sitting in a chair, she will try to rub herself underneath your legs like a cat.
She eats everything but olives and blueberries.
And for some insane reason, she loves bubbles. Not bubbles you blow, but bubbles in the bath.  She knows when I'm having a bubble bath (maybe it's the scent?) and will whine outside the bathroom door until I let her in.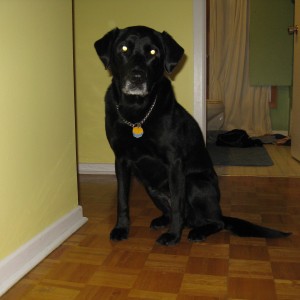 Staring at bubbles. To make a point.