I follow a few blogs. Who doesn't? I like the design your home ones but I prefer to read that in books. I follow a few cooking ones, but I still prefer books or magazines.  And some people I have met over the years have a blog, or I just happened upon one and love reading it.
I follow one in particular and while we don't 'talk' to each other, she contacted me a month after I was in Paris and left a note at 'Shakespeare and Company'.  She asked if it was me and I said, yes.  She herself lives in England and is working on a book, of which she won't divulge any information at all. But the reason I like her so much, although I don't know much about her, is because she writes everything with a green pen.
I used to looove writing with a green pen. Or purple, but usually green. And I haven't in so long. And she reminded me of all the times I would just sit and write. Write short stories, write prose and write poetry.
Anyways, on her blog she has 'Tuesday Treasures'. And I like that a lot.  I like the idea of it. 
Half the time I don't know what I'm supposed to be writing on this blog. I mean, it's supposed to be a marketing thing for my books, but what am I supposed to do? Write about just books? I don't know if I should be promoting other books, writing book reviews, reviews on food/cooking, movies, I have no idea. Wait. Maybe I am supposed to. Hm. It's not like I have a gargantuan following anyway.
Regardless of that long rant/diarrhea blabbing, I would like to have a thing where I put up pictures of things that mean something. Or something with a super cool story. Maybe I should just link it to a different blog? Nah.
So … the only issue is, I have a junky camera.  Everyone who posts pictures of things are able to achieve the perfect picture. I paid a lot for my camera, but apparently it isn't brilliant. So I'll do my best.
So down below is the first thing. I guess I'll just mark each post for pictures? Or maybe call it story time? Ooh, that's good. Story time.
Incidentally, this is the girl's blog, incase you want to follow. She just got back from India.  I'd love to have tea with her someday..
http://greeninkgirl.blogspot.com/2011/06/tuesday-treasures.html
Here is my first favourite thing: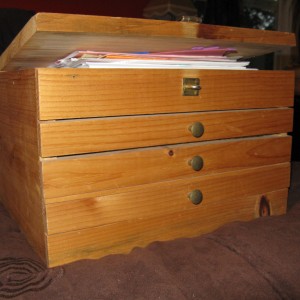 My husband (at the time boyfriend) made me this the first year we were together. We had been dating for a few months and we came back to Ottawa for Christmas. And during the holidays, he went into shop class at his old high school and made it for me.  I have a thing for boxes. I love opening and closing the lids, opening and closing drawers. You can put so many things into them.  I decided to put love letters in this box. It's about 18″ wide and 12″ high and 12″ deep.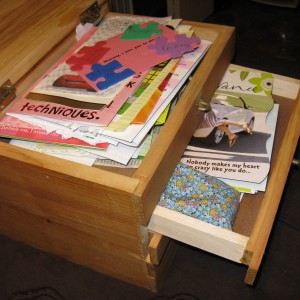 This box has already been emptied once into a large shoebox and then filled again. Because Jackson's love   letters fit inside too.
And then I found an amazing treasure that I had forgotten about.
http://www.youtube.com/watch?v=HYwGMm3ZQmk
Anyone out there have a favourite blog?
watching: SYTYCD
reading: Nine Lives of Chloe King
drinking: water
eating: soon? lay's low sodium chips with homemade dip, then two rolaids.