About Moi
.
I live just outside of Ottawa, Ontario, which is in Canada. I've lived here forever with the exception of some years living in small towns. I failed English Honours at Ottawa U, but I got my CFT (Certified Forestry Technician) at Lakehead U and my Arborist certificate at Kemptville College. Which has absolutely nothing to do with writing.
Jackson Jones: The Tale of a Boy, a Troll and a Rather, Large Chicken comes out September 2011! Whoop!
'Jackson Jones: the Tale of a Boy, an Elf and a Very Stinky Fish' is my first book and I hope so much you'll love it when it comes out in August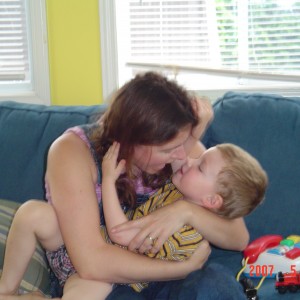 2010
This is me, eating my child. He was delicious.