Fabulous lovely editor Kathleen called and told me to send her a picture for the back of the book! How exciting is that? I almost feel like they took a look at me and said, yah, she's hot, let's put her on the book. Am feeling vain right now. So then I had to run around and find a decent picture. Easier said then done. Was terribly tempted to send this one: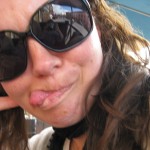 But it's not terribly attractive. I mean the sunglasses are (Roots!) even though they aren't very comfortable. And they don't keep out the sun as much as you think.
I could use this one. But I'm seven. And for some reason, obsessed with these mittens. I can't remember why. I think because they were smooth on the outside for making perfect snowballs and the inside was lined with fleece.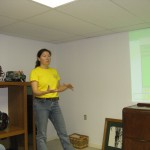 In this one, I'm teaching. And I look funny because they caught me talking at the same time. I'm teaching 'Feeding' to the Disaster Relief team. I had a lot of fun. But this picture makes me look serious. I might be discussing the effects of listeria or salmonella or something. Maybe I'm just saying that you'll be eating a lot of canned food and starches, so suck it up.
So which one did I use?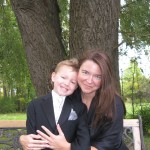 They'll probably crop out the child…. I mean, he didn't write the book, I did.