For the record? There is a lot I don't know. Still.
I'm terribly flattered but get worried when people ask me to look at their work. Sure, I'll look, but it doesn't mean I have an educated opinion. Nor does it mean that if I like it, it'll get published. And in case you were wondering, there is an unwritten rule that authors do not pass on manuscripts to their own agents or publishers.  Why? Two reasons I think. And I could be wrong. Because no one told me the answers.
1) authors work their darndest (is that a word?) to get published on their own. It is not easy. You get a lot of rejections and it hurts. It's tough work and definitely worth the effort. It makes you stronger and gives you thicker skin. Why would you want to let someone else have the easy road? Maybe it is the green-eyed monster, but you fought tooth and nail to get published. So should everyone else.
2) the green-eyed monster.  Oh yes.  See, authors are supposed to be encouraging each other, but it is so hard! Because you look at your own book and think quietly to yourself: why didn't I get more publicity? Why aren't my books doing as well? Why didn't I get another advance for a sequel? It's hard! It's rare to get encouragement on your own book (encouragement you can actually believe: I don't know how many people tell me they are so excited for me and oh, no, I haven't read your book yet… ouch.) so when you hear people ooh and aah over someone else's book, it makes you nervous. Add when your own agent goes on and on about someone else's book that they represent. Ouch. So you swallow thickly, possible inhale a chocolate bar and lift your chin higher.  If a friend of yours writes an amazing book … deep down you don't want them published. Because what if they do better than you? See how awful and shallow this is?  I will freely reveal my own ugliness when a friend of mine released a CD. I was very green-eyed monster about it because yes, my book was coming out next year and yes, we aren't even in the same genre for goodness sakes, but I was jealous! Isn't that awful? So I made sure to make myself talk about how awesome she is and made sure to do my part during her CD launch party. I was so proud of her, so so proud of her, I mean, she's brilliant! But deep down … I wanted encouragement of my own.  Wow. Do I look shallow. Let me be the first to admit my own shallowness … at times.
(Ok, I need to change the station. I do not want to listen to Charlie Sheen's interview. Honestly CBC?)
Ok, this wasn't the point of my post. The thing is, I got my royalty statement yesterday. This is the piece of paper that tells you how your book is doing. How many copies were sold in the States (because I have an American publisher), how many exported (ie Canada), how many e-books and how many 'special deals' (I have no idea what that means, incidentally). 
It wasn't great. I did sell well, however, there were some returns. So let's say I sold 2,000 books in the states (I wish!), it would say, I sold 2,000. And then right beside that, would be the (400) returns, meaning I actually only sold 1,600 books.  Except I think that I should be looking at last quarters' sales for the returns. I think.  Anyways, for some reason I sold 3x the amount in Canada then in the U.S. (how is that even possible?). And it wasn't a lot. I mean, it's a lot-ish, but not what I was hoping. So it made me worry about whether the second book would still be coming out, if I'd ever get to write a third, if I was crap … stuff like that. These are things writers worry about. Incessantly.
So what did I do?
I ate two pieces of Toblerone.  And then gave it to God.
Honestly? I wrote the book because I was led to write it. It's up to Him as to whether it does well or not.  Aaaaaaaand, as if I need to remind myself, I got to go to Paris. That was my goal. Tick, tick. Book published, Paris visited.
And I firmly reprimand myself to work on adult fiction now. NOW! Seriously, get on it!
And the good news?
I got to see the cover of Book 2. And I have no idea why the title won't come up….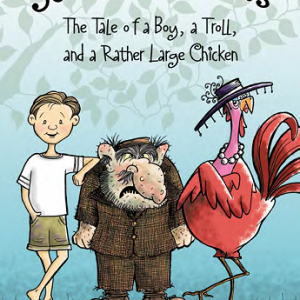 Listening to: the bathtub and my child making fart noises
Drinking: market spice tea with Splenda. I know.
Watching: Glee. Fully addicted.
Reading: Armageddon